| | | | | | | |
| --- | --- | --- | --- | --- | --- | --- |
| |   | |   | |   | |
September 2021
Volume XIII, Issue 9

Reflections -- Realities of War
Reflections -- Realities of War (Jerry Donnellan - 2014)

My unit, the 196th Light Infantry brigade was the last combat unit to leave Nam on March 29, 1973. I, of course, had left four years earlier, when we were winning!

REFLECTIONS-REALITIES OF WAR
Vietnam taught me to hate sunsets and those hazy twilights I loved as a kid. The falling Asian sun was no friend – it simply warned of the demons that came in the smoky jungle night. At dawn, at a distance, the Central Highlands could remind you of New York's Catskill Mountains. In the way of teenagers, we wandered the Highlands like members of some perverse summer camp that could almost at times be playful. At 21, I was the Sergeant, a.k.a. Counselor. This summer camp was unforgiving. Ignore the rules and you became a blood red mist.

The other believable myth was that you would be okay – you would make it through. Even though you walked with death, it wasn't going to happen to you. Guess you had to believe that. I bought into it until there was this ear-splitting noise and I began to fly. Landing on my back, my first thought was, "Damn, that was loud!" I went to lift up my right arm and it fell off, halfway up the forearm. Two bones stuck out of each piece. Your bones are white! Looking down, my left leg was chopped meat; my right leg was gone. Yet there wasn't pain – yet. There was a burning from the heat of the blast – then the pain came, but still not enough for the smoldering butchery I saw.

Every Infantryman has a prayer: "If it is to be, let it happen quick and clean. Don't send me home a cripple." I think that goes back to the Spartans. But once it actually happens, you begin to fight. The medic was on me in no time, telling me the same lies he told other dying grunts. Then came the morphine. What was left of my mind began to spin – not knowing whether it was the morphine flowing in...or life flowing out.

Through the pain I can't explain the pure euphoria at the sight of the belly of the dust-off chopper. I was rolled in a poncho and tossed onto the floor of the Huey. Between the movement and the down-blast of the rotors, the wounds that had slightly healed, opened, and more pain came. We hit the aid station at Hawk Hill, I think.

There, the first concern was cutting away what was left of my saddlebag pocket to get my A.O. map wrapped in a PRC 25 plastic battery bag. I remember wondering why the map was more important than my wounds – that guy obviously was not a medic – God knows they cared.

My clearest memory of Da Nang's 95th Evac Hospital was the air conditioning. Going through those doors, I froze. And the thirst, begging for water – what I got was ice chips wrapped in gauze.

Then there was surgery and more surgery. When I woke up, there in person were the NY Mets – they were part of the USO Tour.

I figured I was dead and nobody was telling me. Then more surgery, and now in Japan's 106th Evac, I came to consciousness. Bonanza was on the ward TV, in Japanese. Then I knew for sure I was dead!

The Evac plane landed in Anchorage. We were slung in liters in light G. I. pjs. It's now November and they dropped the tailgate of the plane so the Red Cross ladies could bring us hot chocolate in 40-degree weather. We froze, the ladies were nice, the "HOT" chocolate was cold.

Like General Washington, I spent the winter at Valley Forge. Actually, I spent the winter, spring, summer, and fall at Valley Forge Army General Hospital.

Nam seems like a day ago, yet more than 16,000 days have flown. It's the nights that drag.
Still in the silence of my own midnight, I wonder if any of this ever happened. Wonder why as a group, they say we're crazy.

In the abnormal world of war, reacting normally can get you killed. You have been turned into a weapon, loaded, and sent into combat. Problem comes when one day they tell you it's over, and the weapon is sent home still loaded. Yeah, it's over for you like it's over for me....over, and over, and over.....

After Afghanistan: The Legacy of Two Decades of War
After Afghanistan: The Legacy of Two Decades of War
U.S. Air Force pararescuemen Afghanistan
http://www.military.com

The Afghanistan War, the longest in American history, changed the men and women who wore a U.S. military uniform, as well as the branches they served.

Early hopes of eliminating a regime that harbored a terrorist group responsible for the deaths of thousands of American civilians and creating a democracy faded into a resurgent Taliban and scenes of panic as Afghans and Americans tried to flee Afghanistan ahead of a U.S. military withdrawal.

It led to a reckoning over mental health for both those who saw combat and those who didn't, many of whom felt illegitimacy for not sharing the burden of a war that saw increasing numbers of service members surviving grievous injuries but missing parts of their bodies or parts of their souls.

And it's led to questions about how history will remember the blood and gold spent to try to control a country famously called "the graveyard of empires."

In this series, Military.com outlines how the 20-year war reshaped the U.S. military.
To continue reading these articles, view this link:  
https://www.military.com/daily-news/afghanistan?ESRC=eb_210901.nl

'Cheated and Guilty': The Struggle for Troops Who Missed Out on Combat
In civilian life, no one prays for a hurricane or a home invader to kick down the front door. Average people don't normally yearn for dangerous situations. Longing for a gunfight with the enemy feels wrong, but it's relatively common among those in the military, especially within the combat arms.    
Read the full story on Military.com -- https://www.military.com/daily-news/2021/08/24/cheated-and-guilty-struggle-troops-who-missed-out-combat.html

Afghanistan: The War That Made War Normal
Soldier surveys a village near Forward Operating Base Salerno in Afghanistan,
The war in Afghanistan -- by far the longest in U.S. history -- is all but over, aside from the frantic evacuation of tens of thousands of Americans, Afghans and other civilians from the Hamid Karzai International Airport in Kabul.

But it has changed the U.S. military, in ways that will linger. Those who saw the war up close -- including veterans of Afghanistan and current and retired generals and senior officials -- agree that the war didn't break the military. But it did bend it, testing the men and women sent to fight, and the weapons and hardware they relied upon to survive in Afghanistan's harsh regions.   Read the full story on Military.com --
https://www.military.com/daily-news/2021/08/23/afghanistan-war-made-war-normal.html

How Will Afghanistan Live on in Marine Corps Lore?
U.S. Marines conduct a security patrol in Sangin, Afghanistan.
As the 20-year war in Afghanistan goes through its final days, will Marines remember, memorialize and revere any chapter of the conflict? For many, there's one moment in a campaign that has proven light on triumphant events that stands out – Sangin.
Read the full story on Military.com -- https://www.military.com/daily-news/2021/08/28/how-will-afghanistan-live-marine-corps-lore.html

VVA #333 Monthly Meeting -- In Person or Via Zoom Link
VIETNAM VETERANS OF AMERICA, CHAPTER #333 ROCKLAND COUNTY, NEW YORK
BOARD AND MEMBER MEETING 08/05/2021
Board Meeting Time 6:30 P.M.
Member Meeting Time 7:30 P.M.
Location: Kearsing & Edwards American Legion Post 1600
20 Station Road, Pomona NY 10970
Meeting will be held inside the Legion Hall
To join the meeting via Zoom:
Roy Tschudy is inviting you to a scheduled Zoom meeting.


Topic: Roy Tschudy's Zoom Meeting

Date/Time: September 12, 2021 07:30 PM Eastern Time (US and Canada)


Join Zoom Meeting

https://us02web.zoom.us/j/5584033382?pwd=VmF4UGRkZitIMzlnVnFOaDNhbVJvZz09
Dial in: 1 646 558 8656
Meeting ID: 558 403 3382
Passcode: 506519

        +1 669 900 9128 US (San Jose)
        +1 253 215 8782 US (Tacoma)

If you are having trouble viewing the above during the meeting call Roy Tschudy at 845-504-5424.  

Afghanistan, Let's Talk About It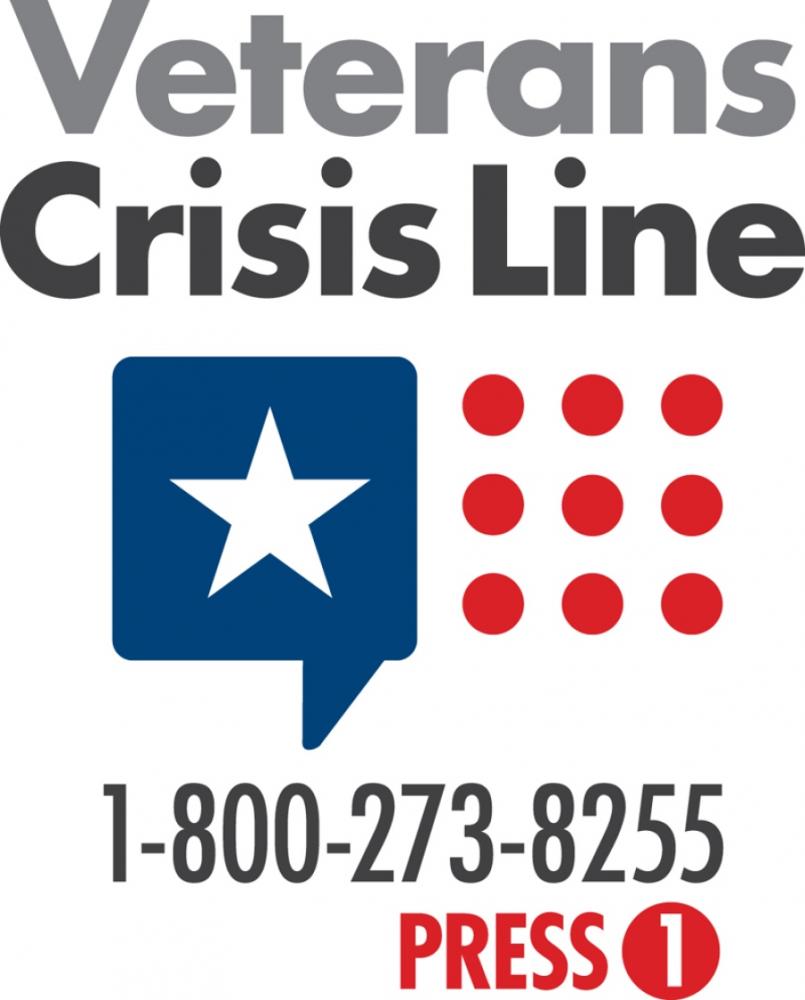 Afghanistan, let's talk about it.

Due to Veterans from all eras reacting to the events in Afghanistan, such as withdrawal and take over by the Taliban, VA is working quickly to share VA resources, call center information, peer support, and other community services.


VA Resources:
Vet Centers – Discuss how you feel with other Veterans in these community-based counseling centers. 70% of Vet Center staff are Veterans. Call 1-877-927-8387 or find one near you.
Veterans Crisis Line – If you are having thoughts of suicide, call 1-800-273-8255, then PRESS 1 or visit http://www.veteranscrisisline.net/
For emergency mental health care, you can also go directly to your local VA medical center 24/7 regardless of your discharge status or enrollment in other VA health care.
VA Women Veterans Call Center
Call or text 1-855-829-6636 (M-F 8AM – 10PM & SAT 8AM – 6:30PM ET)
VA Caregiver Support Line – Call 1-855-260-3274 (M-F 8AM – 10PM & SAT 8AM – 5PM ET)
Download VA's self-help apps – Tools to help deal with common reactions like, stress, sadness, and anxiety. You can also track your symptoms over time.
VA Mental Health Services Guide – This guide will help you sign up and access mental health services.
MakeTheConnection.net – information, resources, and Veteran to Veteran videos for challenging life events and experiences with mental health issues.

Community Resources:
Vets4Warriors – 1-855-838-8255
Wounded Warrior Project – Need someone to talk to? Connect with your peers. Call 888.WWP.ALUM (997.2586) or visit https://www.woundedwarriorproject.org/
Veteran Wellness Alliance – Need help or want to talk? Check In or call:1-630-522-4904 or email: mailto:checkin@veteranwellnessalliance.org
Code of Support 1-571-418-6339 press 1
Elizabeth Dole Foundation Hidden Heroes – Join the Community or call 202-249-7170
American Red Cross Military Veteran Caregiver Network – Peer Support and Mentoring or call the Hero Care Network at 1-877-272-7337
Tragedy Assistance Program for Survivors (TAPS) – Tragedy Assistance Program For Survivors (TAPS) Is Here For You! or call 800-959-TAPS (8277)
Travis Manion Foundation – 1-215-348-9080 or email info@travismanion.org
America's Warrior Partnership 1-866-AWPVETS

Veteran Service Organizations:
Iraq and Afghanistan Veterans of America (IAVA)
Contact them 24/7/365 by calling 855-91RAPID (855-917-2743) or digitally at http://www.quickreaction force.org

Bottom line, support is available if you want it. Even if none of these resources appeal to you – get help. Talk about it with someone, try something new. If you are struggling, the worst thing you can do is nothing. Don't be afraid to lean on your Veteran community and please consider reaching out to VA if you would like to learn more about what is available. We're here for you.  Find more on common reactions and tips for managing stress at our blog, Coping with current events in Afghanistan at this link:
https://blogs.va.gov/VAntage/93472/coping-with-current-events-in-afghanistan/

A Vet's Comparisons Between Afghanistan and Vietnam
Comparisons between Vietnam Veterans and Afghanistan Veterans
Roy Tschudy, President, VVA Chapter #333

In Vietnam, we as soldiers, not only fought the enemy on fields of battle, but also those hidden in jungles, rivers, mountains and tunnels, not to mention how we were welcomed on our return back home.

In Afghanistan, soldiers not only fought the enemy on fields of battle, but also hidden in mountains, houses, and desert areas.

In Vietnam we had politicians make decisions on how a soldier should fight in a war and, in the end, exit out unceremoniously.

In Afghanistan, we have politicians who make decisions on how a soldier should fight a war, but never learned from past mistakes and, in the end, exited out unceremoniously, causing thirteen heroes an unjust demise.

The Vietnam War cost the United States of America $168 Billion dollars, or $1 trillion in today's dollars…and for what?

The Afghanistan War cost the United States of America $2.261 trillion dollars….and for what?

In Vietnam, we as soldiers came in contact with an herbicide with the name "Agent Orange" or, as commonly referred by Nam Vets as "the gift that keeps on going." Why, you may wonder? Simply because as is documented, continues to this very day to affect and kill us with an assortment of cancers.

In Afghanistan, soldiers came into contact with "burn pits." Placing refuse in landfills inclusive of trucks, tires, rubber, batteries, asbestos, medical waste and bio-hazardous materials, exposing soldiers to illness or ailments currently, and as time moves forward. This will be their "gift that keeps on giving."

In Vietnam, soldiers were maimed and killed from booby traps and sadly, at times from "Friendly Fire."

Many Vietnam veterans even to this very day, after over fifty years, live with post traumatic stress disorder (PTSD), having flashbacks, upsetting memories, anxiety following a traumatic event and in some cases, the feeling of "guilt" as to "Why my friend, my buddy and not me?"

Afghanistan / Iraqi veterans suffer the exact reasons of PTSD as their brothers-in-arms.

Suicide rates among Post 9/11 veterans are four times as high as combat deaths. The average number of suicides among veterans is almost 18 per day. In short, PTSD in and of itself, is an endless war.

There are so many more comparisons that can be drawn between Vietnam veterans and Afghanistan / Iraqi veterans….the list would be quite extensive.

However, there is one common thread that is most relevant, one that is forever bonding.
The love for our country, the dedication along with the choice of making the ultimate sacrifice if need be, for our nation, will forever, no matter the time or place, hold us as one!

What I fervently hope for my fellow veterans of all conflicts, of all wars, is that they may find peace in their life and appreciation for their service along with that life. I pray that those who have the authority to do so, can find other means than war. After all the loss and bloodshed, whether in Vietnam or Afghanistan, exactly what do we have to show for these wars other than broken hearts?
PFC Joseph P. Dwyer Veteran Peer Support Program
THE ROCKLAND COUNTY PFC JOSEPH P. DWYER VETERAN PEER SUPPORT PROGRAM
UPCOMING ACTIVITIES AND EVENTS
(Week of 9/6 to 9/10 2021)

For further information, contact Ismael (Izzy) Quintana, Veteran Outreach Coordinator
PFC Joseph P. Dwyer Veteran Peer Support Program Rockland County (Vet to Vet)
Cell: (845) 587-6497

September 8 & 10 (W & F) MEDITATION - 9-9:30 am. Class elicits deep relaxation and helps re- duce stress and anxiety with experienced Instructor Brett Cotter. To participate download "Ring Central Meetings" app to your cell phone or meeting program onto your PC or laptop by clicking on website: https://www.ringcentral.com/apps/rc-meetings. Meeting ID: 582 811 3947

September 7 (Tuesday) from 11 – 12 pm TAPPING aka Emotional Freedom Techniques (EFT). By using your fingertips to tap upon a few of the body's acupressure points, you can relieve stress & anxiety. Online via Zoom. Meeting ID: 840 3076 8233 Passcode: 687384 or click: https://us02web.zoom.us/j/84030768233?pwd=VnRGY1piMnVqSVZXZG96T3lKWTNaQT09

September 8 (Wednesday) at 9:30 am & VETERANS WALKING CLUB at PALISADES CENTER. Meet in front of BRIDGES, 2nd Fl. Masks required while in the mall if not vaccinated. We walk be- tween 45 minutes to an hour. But you walk whatever pace and however long you want. Get walking!

September 8 (Wednesday) 7-8 pm & again on the 10th (Friday) 7-8 pm GENTLE YOGA. Virtual session via Zoom. Yoga is extremely beneficial for your physical and mental health. Instructor Mira Stangl is a 500 hour Yoga-Alliance Certified Teacher With Extensive Training in PTSD and Restora- tive Yoga. If interested in attending email iquintana@vettovetrc.org.

September 9 (Thursday) from 9-10 am. QIGONG (Ancient Chinese Exercise). Gentle meditative exercises based on Universal Life Energy known as Qi. Reduces pain, stress & anxiety. Instructor Norman Galinsky, has 36 years experience in the art. POC: iquintana@vettovetrc.org.

September 9 (Thursday) "ADAPTIVE /MOBILITY VEHICLES AND VA FUNDING OPTIONS" used by people with disabilities. Presentation from the Bussani Mobility Team who will be available for follow up questions. This will be an in-person and virtual event. Location is at BRIDGES located on the 2nd Floor of the Palisades Center, in West Nyack NY. * RSVP is required if attending in person due to limited seating.* Virtually via Zoom at Meeting ID: 819 2824 7396; Passcode: 070683 or click on:
https://us02web.zoom.us/j/81928247396?pwd=SDlCaVErZDdvQ2lmd0VRWmUvSkI1Zz09
For further questions or to RSVP for in person attendance please contact Izzy Quintana at email: iquintana@vettovetrc.org

September 9th (Thursday) 8 to 9:30 pm virtual via Zoom. WOMEN VETERANS SUPPORT GROUP Led by Sharon Bailey, LCSW. Put the kids to bed and come get some self care. Join online via Zoom, Meeting ID: 842 2350 8019 Passcode: 648117 or by clicking on: https://us02web.zoom.us/j/84223508019?pwd=YWM1aDNuTEtPZFRmbHJLdThlNTFMUT09

September 10 (Friday) at 10:00am HIKING WITH VETS at Pecks Pond. Located at 130 Samsondale Ave, West Haverstraw, NY 10993. Free parking available. Easy loop around the Lake. Walk with Vet to Vet at your own pace. Click for Directions: https://goo.gl/maps/fznoX9Pd2yZdZNvcA

Weekly Support Group Sessions
WELLNESS & RECOVERY VETERAN & FIRST RESPONDERS SUPPORT GROUP - 2nd Mon- day of each month (Sept 13th) from 2 pm to 4 pm via conference call. Led by Sharon Bailey LCSW. You can call in with your name or stay anonymous. Dial in # 425-436-6393, Passcode 114029 #.
VETERAN & MENTOR SUPPORT GROUP - Last Tuesday of each month (September 28th) from 10 to 11:30 am via conference call. Led by Veteran Outreach Coordinator Flore Raphael. Geared for Veterans of every war era and MBHT trained Mentors. Dial in # 701-802-5101, Passcode 486179 #.

ROCKLAND COUNTY, NY — Twenty years have passed since the attack on the World Trade Center, and Rocklanders will gather to remember the residents who died Sept. 11, 2001 and honor those who have died since then of 9/11 related illnesses.

Among the planned events:
County officials will join family members, clergy, first responders and others to mark the 20th anniversary of the terrorist attacks at 8:30 a.m. Sept. 11. Those planning to attend the event should arrive by 8:15 AM. For those unable to attend the event in person, it will be live-streamed on the Rockland County Government Facebook page and will be posted for viewing to the Rockland County Government YouTube page upon completion.

As part of the commemoration, family members will read the names of the Rockland County victims. There will be a tolling of the bell followed by a moment of silent prayer at 8:46 a.m. in remembrance of the attack on the North Tower of the World Trade Center, and again at 9:03 a.m. in memory of the attack on the South Tower. Four more bells will toll in remembrance of the attack on the Pentagon, the collapse of the South Tower, the crash of flight 93 into Shanksville, PA, and the collapse of the North Tower.
WHERE: Haverstraw Bay County Park, 21 Gagan Road, Haverstraw, NY

Clarkstown will hold a remembrance ceremony from 5-6 p.m. Sept. 11 at Clarkstown Town Hall.

In Nyack, the remembrance will take place at the Hometown Heroes Memorial in Memorial Park from 6:30-7:30 p.m. with participation of the American Legion Nyack Post 310 Color Guard.

In Orangetown, town officials will hold a ceremony at 5:00 p.m. Sept. 11 on the front lawn at Town Hall to remember those who lost their lives on that day in 2001 and honor those who have passed away from 9/11-related illnesses.

9/11 Ceremony Haverstraw Town Hall 1 Rosman Road, Garnerville New York 10923
Friday September 10, 2021 at 7:00 p.m.

9/11 Ceremony Suffern Village Hall -- 61 Washington Avenue, Suffern NY
Saturday September 11, 2021 at 2:00 p.m.

Other Upcoming Events:
Vietnam Veterans of America, Chapter #333:  Please be advised we have been approved and assigned area D-6 (right off of Main street) for the Nyack street fair for September 12, 2021 and once more on April 10, 2022.  Set up begins at 0700 hrs and breakdown at 1630 hrs. All are welcome to join us greeting the public at large and to promote our Chapter. In the past we have been fundraising for our HAND CYCLE PROGRAM, however, that fund now has adequate monies without any current candidates, although the search continues.

All funds received at the Nyack & Suffern street fairs will be directed to the Chapter #333 itself.  Our special "Thank you" gift to any and all whether a donation is made or not will continue on. A small clear glassine envelope bearing the name of a County K.I.A. Vietnam veteran (along with 3 others not residing here) stating "THANK YOU FOR YOUR SUPPORT" on one side along with a STAR from an old retired American Flag on the other to honor both the veteran and our Nation will continue to be presented.
Roy Tschudy, President, VVA #333

The VA Hudson Valley Healthcare System proudly announces a Women Veterans Town Hall meeting to occur on September 14th, 2021 at 5:30pm.
We encourage you to attend. There will be experts in the areas of;
Women's Comprehensive Healthcare Services, Military Sexual Trauma, VA's Whole Health Program, Caregivers Support Program, Maternity Care Coordination, Pelvic Floor Physical Rehab, Post 9/11 Military to VA Case Management Program, Women's Gynecological Services
The meeting will be held virtually via Microsoft Teams
Please email Dorothy.Trimmer@VA.Gov to register or if you have any questions.
Dorothy G. Trimmer, MAJ(R), AN, BSN, RN-BC, Women Veterans Program Manager
VA Hudson Valley Healthcare System -- CP (845) 831-2000, ext. 5658

Veterans Advisory Committee West Nyack Free Library
65 Strawtown Road West Nyack NY 10994
Wednesday September 15, 2021 12:00 noon

Gold Star Mothers Ceremony Haverstraw Bay Park
21 Gagan Rd, Haverstraw, NY 10927
Friday September 24, 2021 at 10:30 a.m.
At this Ceremony there will also be a recital of the names of those
13 Servicemen KIA in Afghanistan

Spaghetti & Meatball Fundraising Dinner $15
John Perry American Legon Post, 845-365-0238
620 NY-340, Sparkill, NY 10976
Sunday September 26, 2021 2:00 p.m. to 5:00 p.m.

Car Show Hillcrest Fire House
374 N Main St, Spring Valley, NY 10977
Marine Corps League attending for membership & donations
Sunday October 3, 2021at 9AM

Veteran of the Year Ceremony County Court House
1 South Main Street New City
Chip Hayes will be sworn in as Veteran of the Year
Sunday November 7, 2021at 12:00 p.m.

Marine Corps Un-official Birthday Party
All are welcome military, veterans, and civilians
American Legion Post 1600, 20 Station Road, Pomona NY
Sunday November 7, 2021at 12:00 noon

VVA Chapter #333 Scholarship Program
Vietnam Veterans of America, Chapter #333
As has been the case for many years now, Chapter 333 continues on with our annual Scholarship program for students of Chapter members pursuing their college degrees in the amount of $2,000 per each awardee. In addition to this we also provide a $1,000 Scholarship for veterans who are in attendance at Rockland Community college under our RUTH MAY SEBERRY VETERANS SCHOLARSHIP PROGRAM. Another scholarship Chapter 333 provides is for NORTH ROCKLAND HIGH SCHOOL students who will be attending ROCKLAND COMMUNITY COLLEGE in the amount of $1,000 per student.

Pictured is John Braunagel lll who is the grandson of Chapter member Gene Sullivan along with family and the Chapter Scholarship Board members.
Left to Right: Howard Goldin, Al Dagistino, Ed Frank, Bruce Mcclintock and Roy Tschudy

Lastly, we also provide $500.00 COMMUNITY SERVICE SCHOLARSHIP in the name of deceased member GENE SULLIVAN for a deserving student who has performed volunteer work for veterans in the Rockland County community. Unfortunately due to COVID issues this past year students who would have appreciated the chance to do so were restricted in their endeavors. Hopefully next year we will be able to do so once again.
Roy Tschudy President, VVA Chapter 333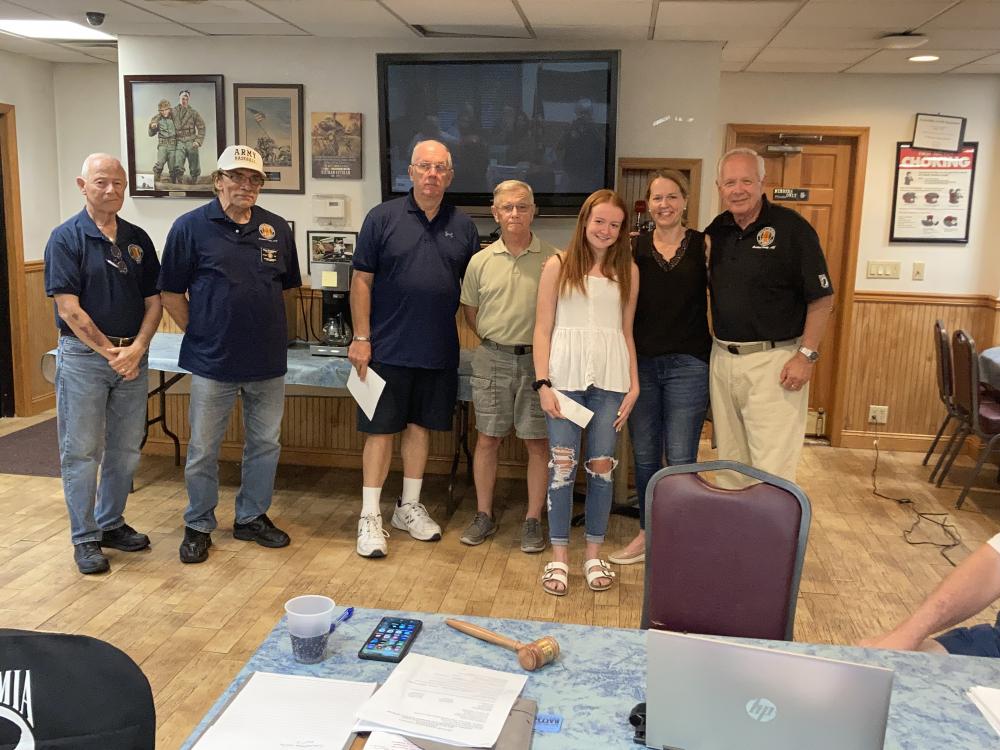 VVA #333 Scholarship Award


The second College Scholarship Awardee of the evening was presented to Elizabeth Dudek pictured here with her Mom Colleen. Elizabeth is the granddaughter of the late Chapter member James Sullivan who was a long time Chapter member along with being on this Scholarship board.

As with the same for John Braunagel III, Elizabeth received a $2,000 check for her college education. Pictured is Elizabeth with her mom Colleen and the Scholarship Board members.

VVA Chapter 333 Scholarship night
Awarded to Amanda Nicolaides
The third College Scholarship awardee was Amanda Nicholaides who is the granddaughter of Chapter member Al Bevilacque, pictured with Amanda, her mom and the board members. Just as both John and Elizabeth, Amanda also was the recipient of a $2,000 Scholarship.

Employment Opportunities and Information
All Bright Support Services is looking to hire Wire Guards immediately. This position is an on-call position. The job's essential functions are to safely secure down power lines after a storm.  Title: Wire Guards, Type: On-call as needed position
Shifts: 12-16 Hours, Hourly Salary: $23
Transportation: Candidates must have a personal vehicle to drive to the assigned location. Equipment: A safety kit will be provided If interested, please text 845-608-0687 as soon as possible.

Brosnan Risk Consultants Seeking Experienced Security Officer in New York City.
Job Types: Full-time, Part-time

Hours: Hiring for all shifts Days, Evenings, Overnights

Pay: From $16.00-$18.40 per hour




Job Description

Brosnan Risk Consultants is seeking an experienced Security Officer in New York City to work in financial institutions. Our company provides exceptional security services in over 30 States nationwide. We offer full-time and part-time positions (Monday-Sunday), competitive pay, and paid training sessions conducted by our highly skilled team of professionals. We value our employees and clients above all else, and pride ourselves in promoting a positive, professional work environment. With Brosnan there will be ample opportunity for growth as we believe in recognizing our team's daily efforts through promotion and merit-based awards. Brosnan is a drug free environment that requires a 5-panel drug test. For immediate consideration kindly apply to our job listing with your complete and up to date resume.






Manhattan Beer Distributors

-- Offices in the New York Metro area with available positions in Suffern, New York and the Hudson Valley.  Over the past 39 years, Manhattan Beer Distributors has strived to become the premier full-service beverage company in Metro New York. We believe that each employee contributes directly to Manhattan Beer Distributors' growth and success.  We provide all employees with training and development as part of their career at Manhattan Beer Distributors.  We believe that it's our commitment to our employees that has enabled us to remain one of the most respected beverage distribution companies in the country. Manhattan Beer Distributors offers its employees a highly competitive compensation package excellent employee benefits. Our goal is to provide our employees with a wide variety of benefits to assist employees in meeting individual and family needs. For further information, view this link:  

http://manhattanbeer.com/Career/GreenHouse
FedEx Independent Service Provider


FedEx is looking to hire full time and part time drivers to deliver and pickup packages from Blauvelt, NY. Full time schedule is Monday – Friday and part time schedule has weekend positions available. Must be over 21 years old, have a clean drivers license, and be able to pass physical and drug tests. Background checks are also required. Salary for full time starts at $700 per week. Please contact 201-724-7781 to see if you qualify.



Office of Acquisition, Logistics, and Construction of the Veterans Administration:


The link below lists current positions have been announced for the Office of Acquisition, Logistics and Construction (OALC). This is not a complete listing of all Department of Veterans Affairs (VA) vacancies and may not include all positions announced for OALC. You may access VA recruitment information on the VA Jobs site at this link:

https://www.va.gov/jobs/



If you wish copies of announcements listed below, please contact the individual identified in the specific announcement.  Here is the link to the OALC Job Listings:   


https://www.va.gov/oalc/career.asp




Rockland County Marine Corps League

Rockland County Marine Corps League regularly receives donations of handicap assistance equipment for disabled veterans from people who want to help. The donated equipment is available for free to military veterans and their families. The items include the following:



Motorized Wheelchairs

Manual Wheelchairs

Oxygen Generator

Walkers

Bath Chairs

Transfer Benches

Braces

Crutches

Canes

If you have need of any of this equipment, contact the folks at the Rockland County Marine Corps League - 845-323-8774 or via e-mail: drobin137@icloud.com.

RockVets Monthly Newsletter


RockVets is an Outreach program of New York Vets, Inc.,  a 501 (c) 3 not-for-profit organization established in 1992, to advocate for those who have worn the uniform of the U.S. Military, no matter where or when they served.
The volunteers at New York Vets / RockVets publish this monthly e-newsletter.  We welcome your thoughts, questions, and feedback. E-mail: NewYorkVets@gmail.com.
We are not affiliated with Rockland County Government nor the Veterans Service Agency of Rockland.
Each month, our newsletter reaches more than 1600 local veterans or those who care about veterans' interests.  Please use this forum to let veterans know of any information, resources, links or events they might enjoy. Send information to NewYorkVets@gmail.com and feel free to pass this newsletter along to others who may benefit from the information presented here.
Our Mailing Address
New York Vets, Inc. / RockVets
P.O. Box 387
Tomkins Cove, New York 10986                                                           
Pat McGlade
Co-Founder / Director
Email: NewYorkVets@gmail.com